Lawn signs are excellent for quickly showing a message. It could be "hi i'm a landscape gardener" or "Hello I install roofs" it could be displaying something like a Graduation. Or "welcome home", What ever the reason Lawn signs are great. They can be popped into the ground with one of our step stakes and easily taken out again just as quick. The usual size we use is 24×12 (2ftx1ft) but we do also produce other sizes.
Easy to install

Easy to remove
Great for displaying temporary message like "sale today"
doesn't take up a lot of space
Hard to miss
To contact us today, simply fill in the form below
Kate Elms
Today I visited Ian at his shop in Parrsboro, as I was in need of a logo for a new business. I read the reviews and his blog posts, which resonated with me as a new business owner, and since I am a very visual person, I wanted to work with someone in person, rather than over the phone or email as I know I would not have been able to articulate what I was looking for. Admittedly, I was nervous to take this step toward but Ian was outstanding with his help, professionalism and – wow watching him create a logo from nothing is truly unbelievable.
Kate Elms
Ian has been expertly cooperative,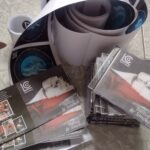 Ian has been expertly cooperative, professional and very friendly to work with. From promotional materials to decals his business has delivered great quality and quick turnaround. Supporting local businesses is important and choosing Design Shop 243 was an easy choice.
Kevin Wood
Darlene
Just wanted to say thanks for the great job you did, once again,on my photo coffee mug.
It's a fun way to save a memory for someone special, especially the person who is hard to buy for. The first one I purchased was for a man turning 97 years old and I have to say each time he uses his coffee mug with the photo of the sailing boat he smiles
Darlene
David Towns
I definitely need to sing the praises of Ian Black of Design Studio 243 here in Parrsboro. Ian has done some wonderful work for us, coming up with shirts in large numbers on very short notice for our community choir, taking and creating some innovative signs and then, over and above the call of duty, managing to produce, again on extremely short notice, one extra tee when I had miscounted the number I needed to order.
David Towns
Maple inn
Over the course of the past couple of months, we at the Maple Inn Parrsboro have had the enjoyable experience of working closely with Ian on a rebranding project. From the smallest of stickers, to mugs, to clothing items, to large roadside signs, Ian worked dilegently to provide everything we needed — and all within our timeframes. Thanks for all of your hard work and dedication to the project!
Paul Aitken (Owner)
Trider's Craft Beer
Exceptional service by Ian at Design Studio. Not only did he provide us with top quality screen printed shirts, he also hand delivered them the following day of placing the order! Proof that customer service lives on in the maritimes!
Trider's Craft Beer
Parrsboro Mansion
Thank you, Ian and Cheryl, for your perfect service of 14 years! You never disappoint. We remember your stay at our Mansion when you came to Parrsboro for the first time and swimming in the pool together.
Parrsboro Mansion
Political leaflets
We gave Design Studio 243 a print job that required top quality and a quick turn around. Throughout, Ian helped stick-handle various changes to copy and design, with helpful suggestions for improving appearance, efficiency and cost. A professional we enjoyed working with!
Sandy Graham
Barb and Dale Morris
The cards advertising our little "hobby" shop were done with the utmost of professionalism. They were designed by Ian and more than pleased with his expertise in the final outcome. Those dropping in do not leave without one!
His workmanship shows in the signs throughout our town and beyond with precise detail and fast service no matter what you are looking for. We would not hesitate to recommend him for his work – no job is too small for Ian! Thankful we have this service in our area….proud of it…you bet.
Barb and Dale Morris
Barb and Dale Morris
Fundy Geological Museum
Ian provide fast and accurate service and always takes the time to discuss all options.Parrsboro is fortunate to have him and Cheryl here. Its great to see people support local and small town!
Sandra Tanner
Fundy Geological Museum
Sackville Golf Club
Very, very cooperative and supportive in the process. The final products ( signage ) were excellent, very reasonable pricing, and most importantly the signs were ready for pickup within 48 hours of sign-off. Highly recommend.
Jack Drover,
Sackville Golf Club
2020 Grad banners
I started a project for our graduates of 2020. Since they won't have a normal graduation this year do to Covid-19. I wanted to have banners made and hung in our town to help celebrate this milestone for these grads. I received amazing support from community members and businesses to sponsor a banner. Ian was so helpful, designed a community congratulations banner for me. His service was very fast.
min total Ian made 28 banners for us, and his business was outstanding.
Crystal Taylor
Taylor Redmond
If a person can envision what they want, (or if they can not), Ian can make it happen. A good listener putting terrific skills into action, producing durable signage within a professional time line. Ian is also accommodating when deadlines jump ahead of us. By locating his business in the rural community of Parrsboro, Ian has made many things possible.
Taylor Redmond
Rhicon Piling
Would like to take this opportunity to thank Ian and the team @ Design Studio 243 for all the assistance and ongoing support in setting up our IT system, at our UK based company Rhicon Piling Ltd. I guess there are an uncountable amount companies, within the UK, that could have offered this service but, the extent of support offered by Ian made the difference.
Rhicon Piling
Reiki
Ditto to the testimonial from Harriet. Ian's work for my Academy of the Inner Smile included business cards and signage. His design ideas were able to vastly improve my drafts. Plus, service was quick and friendly. Thank you Ian!
Gerard Cormier
T&S Taxi
Thank you Ian for taking our simple design for our taxi's and designing our great new logo for our business. You went above and beyond and we are very happy. The logos look great on the cars and we look forward to getting more promotional things from you. Thanks a lot Troy Melanson and Sharon Doncaster. PS Sharon and I give Ian and his business a 10 star rating and fully recommend him.
Troy Melanson
Paul Popison
Wow are you guys for real? Started talking with Ian about a design, the design flourished, became a thing of beauty with back and forth of emails. Next thing I know my sign is made, Pickup next day. Holy crap. This is outstanding. The best thing is the sign is working. I have already made more from the sign than it cost me. Will use again. thank you.
Paul Popison
Janet
I am truly grateful for the hard work that was performed on my lap top computer today. I am so happy because this tool was my communication tool and my lines were interrupted with my family and friends in Ontario. Ian's work performance is more than excellent. Thank you so much for this service and I would highly recommend your Services to anyone that needs computer work. Also his business practices are personable.
Janet
Janet
Parrsboro Fire Dept
Excellent customer service, which is a hard thing to find these days! All orders our Fire Department have placed have been completed days before we expected. Thanks for your hard work!
Parrsboro Fire Dept
David
We had a huge issue being seen as a company. We was for all intents and purposes invisable. We was a little off the beaten track. Through an exisitng customer of DS243 we were encouraged to contact them. after playing phone tag a couple of times we eventually got to speak. We can confirm you will always be called back, if a call back is required. I am so glad we did. When we connected the ideas, were literally like a volcano erupting. We could do this or that… We settled on signage to draw customers into us and to alert them to our existence and its worked. Simple as that.
David
Pleasant Street inn
By far the best customer service and turn around time by anyone, ever….Ian went above and beyond to design and produce Racks Cards and Street Signs for me incredibly efficiently and effectively like no one I have ever seen. Customer Service is beyond compare….Design Studio 243 is the only print shop I will ever order from again! Ian you deserve a vacation and a medal! Thanks again!!
Heidi
Pleasant Street Inn Jul 29, 2021
John
Design Studio has always offered fantasic products, that goes with out saying as I have been a return customer many many times. Its their service that truly sets them apart. Ian can be abrasive, But I have learnt his mind is going over 20 things when your thinking about 1. You ask for a decal, he is thinking about colours, applying, how it will adhere to your item. How it may translate onto other things, will it scale. He asks a lot of questions. However its all worth it in the end.
John
John
Peter Fournier
Starting our small business has been fun and exciting, and terrifying in equal measures. Sometimes we have questions or worries that we want to run by others. In these instances, Ian at design studio 243 had been an out standing resource. He is very technically minded and creative in equal measures. We would highly recommend him without reservation. He walks us thorough what we need in small easy to digest chunks. He gives us the bigger picture so as not to worry us, but takes it nice and slow at our pace. A great person to have on your team.
Peter Fournier
Peter Fournier
Ships Company Theatre
Ian is incredible. He's willing to go above and beyond to support the local creative community, and he'll do the same for your business. He's a fantastic designer, a quick wit, and always ready with a solution to any complication that might come up.
His work has been invaluable both to The Ship's Company this and to my own projects this year, and I look forward to working with Ian for years and years to come.
Alexandra Robin
Jiveney Trecartin
I have had several custom mugs made at Design Studio 243, where I send the design and work with Ian to create a final product that I am happy with. The prices are extremely reasonable and usually on the same day or next day, my custom order is ready for pick up! It's a great place to have gifts made for the people in your life who have everything, and I am happy to support a local business in my community.
Jiveney Trecartin
Harriet McCready
Ian is great to work with… always helpful, creative, offers good suggestions to make the project better.
Harriet McCready
Parrsboro Campground
Just had a beautiful sign made for the Entrance to the Campground, that i manage for the Town of Parrsboro. I am always impressed with Ian Black's work, as i have had him due numberous sign,s for us. I would highly Recomend his Buisness at design studio 243 !
John Best
Carla Siddal
I have worked with Ian for several years he has always been abliging and helpful. He works with my ideas and helps me better them. the fished product is also always ready much much sooner then I enitionally antisipated! – great work -great prices 5 out of 5 !-thank you !
Carla Siddal
Heather
Great local place to shop. Turn around quick service. If you need something, just ask, he will no doubt have it, or can get it. Great community shop as well. Always thinking up new ways of doing things and things to do. Love going into this shop and taking company there. Great job, he has done work for me and it has been outstanding! Highly recommend it!!
Heather
George P
I have to say I have used Design Studio 243 for a couple of years now. I get all my tshirts printed by them. Then sent to me and I then pass onto my customer. I'm very happy with everything from the service speed to the quality. It all ads up to keeping me returning time and time again. It's how this company works with my company that helps keep me in business and keeps my customers coming back to me which in turn keeps me
coming back to Ian.
George P
Bruce McCulloch
I was very pleased with the service provided by Ian to create promotional Vanity license plates. Ian designed three excellent options from which to choose, and was very quick in creating the final product. I would highly recommend Design Studio to anyone.
Bruce McCulloch
Dick Lemon
Ian is doing what many of us in high quality service business should do. He does his production in an older farm house in an out of way part of Nova Scotia which is but nowhere near any commerce. he does exceptional work: quick, imaginative, offering great initiatives, keeping in mind my big picture for the job, not his. oddly he is very busy with no customer seeinly in the area. they come to him.
Dick Lemon
Suzanne Burchell
Ian is a competent and personable entrepeneur of grahics. He has helped me publish 2 books and made sure I could afford the costs. He had excellent ideas for an anniversary party ie a banner I did at the Ottawa House. His prices are so reasobale and the quality of product and service excellent .Ian is an asset to Parrsboro buiness.
Suzanne Burchell
Neil Hertlein
My business is based in the U.K., and I'm in Germany. Design Studio 243 has been a godsend for me. Ian quickly designed my logo, and tweaked my business page, to a very high standard. He has given me lots of advice and support, coaching. I'm looking forward to working together with Ian in the future.
I couldn't think of a better company to support my business.
Thanks for all your hard work Ian
Neil Hertlein
Ottawa House Museum
I am both the Custodian and the Interpretive Plan Chairman for the Ottawa House Museum in Parrsboro. Ian has been invaluable in helping our Historical Society with the rehabilitation and upgrade of our Museum. His creative input – "thinking outside the box", his designs, the rapid production and installation of both basic signage and many, many "Interpretive Panels" is second to none.
Randy Mosher
Denise Anderson
Ian is amazing. Finished our logo, had business cards printed and put on an early morning bus so we could have them right away. The logo and cards are great. Ian you went above and beyond!! Best customer service, especially in this day and age where customer service is very rare. Thank you
Denise Anderson
Great Britain
I needed a particular and quite unique design, for my project. With the help of the internet, I dealt with multiple designers from 3 different countries to try to have them understand my vision. None of them were able to meet my expectations, they all took weeks. Then the results were so far off the mark it was laughable.
Ian listened to my visions, and through asking relevant and precise questions, he had the exact design I wanted.
Neil Pook
Dawn McCully
I love going business with Ian and his family. I have always had great service , fast turn about and all at a reasonable price. Parrsboro is very fortunate to have such a business in our town. Thanks Ian and Cheryl
Dawn McCully
DR. MARY-IRENE PARKER
Ian has been great with the computer stuff (about which i admittedly know nothing) but I especially like the metal-backed signs he made for the office–they are durable, moveable, and they clean in a good rain! thanks Ian!
DR. MARY-IRENE PARKER
High Tides Country Market
All new decals and sidewalk sign made for High Tides Country Market! Ian did a great job had great advice and very quick service!!!!!! May 18, 2020
Tim Forbes
Chris Lavin
Always a fast friendly service & nothing would be too much trouble for this legend!
Chris Lavin
Chris Lavin
Tracy Wise
Fast, friendly, and extreemly helpful. Ian is very talented, creative extreemly knowledgeable always on hand to offer the highest standard of service, to assist you in coming up with great and creative ideas to assist you in business or individual needs. Would highly recommend Ian at Studio 243
Tracy Wise
Johnny M
I don't normally write things like this but I have to on this occasion. I had occasion to work with Ian. Out standing designs, fast turnaround and great pricing. Dont hesitate call them now.
Johnny M
Amethyst Boutique
Since we've moved to Parrsboro in 2012 and opened our business, Amethyst Boutique, we have used Ian's services on a number of different occasions (including our store's signage). We have always been impressed with his professionalism, creative ideas and quick turn around time – going above and beyond!!!
Last week, he went and did it again!!! The prom committee asked if I would be able to help with their posters and tickets so of course I went to see Ian and he was excellent once again. Highly recommend.
Amethyst Boutique
Paul Green
Even though my business is based in the UK I find it easy to work with Ian at Design Studio 243. The speed and professionalism is outstanding, i Used him for Logo design for my business. He gives me Business consultation, has recently been tweaking my Facebook page and emails to generate more business. With the internet world being world wide, such a great ocean between us has been closed and feel like he's close by.
Paul Green
Ottawa House Museum (PSHS)
Ian Black continues to be our never-fail wizard when it comes to designing and printing materials for Ottawa House Museum.
We take him a vague idea of what we think we might want, and VOILA!, he comes up with really creative approaches. Often helps us to see potential in something we had not even thought of. He amazes us with his fast turnaround and willingness to go above and beyond expectations.
Harriet McCready
Robert
"If you're looking to get a new business card or a new t-shirt, check out the Design Studio 243 in Parrsboro. Owner Ian Black really knows how to get the job done. He provides super-fast and friendly service and his designs are top notch. From now on, he's my go-to guy for this kind of work"
Robert
Dr Parker
Design Studio 243 is a multi-taskers dream machine! Helpful ideas and concepts readily shared by the owner/operator himself. And the best turn around time on all my projects!
Dr. Parker
Dr Parker
Julie MacMillan
Ian Black is very patient with his not-so-tech-savvy clients, speaking from experience. He has a very quick turnaround time for project completion. He is indeed very talented at design and implementation. It is so wonderful to have him on main street in Parrsboro.
Julie MacMillan
Dads Country Market
Best place ever to have signs done. i can't believe how fast they get things done. you did an amazing job on our signs for Dad's Country Market. Thanks so much.
Dads Country Market
River view cottages
Just want to thank Ian for the unbeleivable job he has done on our signs. From concept to delivery, it was just over 24 hours! He took the time to speak with us about our vision and offered invaluable advice. A few emails later and our signs were delivered only a couple of hours later. Tremendous job Ian! Would highly recommend Design Studio 243 to any one with a business. Jay Grant Riverview Cottages.
Jay Grant